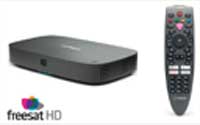 Freesat is a a joint venture of the BBC and ITV channels and is now the fastest growing digital TV english language service in Europe with free HD programming, with no contract and no subscription. Remember that your dish will need two feeds/cables to your box in order to watch one channel while recording another.

Want freesat in more than one room?
Not a problem. Just specify the number of rooms you want freesat in when you book your dish installation. You'll need a freesat box or TV for each room.

Need to buy a satellite dish installation?
Not a problem. When you buy your freesat box, you'll be asked if you need to buy a dish installation as well.

How to get started





Hundreds of movies to choose from, including up to five new Sky Movies premieres a week.
There's something for the whole family to enjoy, with everything from comedy and romance, to action and drama.

What do I need to get HD?